Trusted all over the world
Trusted all over the world – Danly has been supplying markets throughout the world since the 1960s. We have established regional branch offices and production sites with the aim of providing the high standard of Danly products expediently to the different metal processing industries.
Expansion of the product line – Mould
With the acquisition of DMS Diemould Services in England, Danly has expanded its product line through mould kits and components.
Market introduction of SinterLube©
Another innovation by Danly – the market launch of the revolutionary product DANLY SinterLube
Development of the Design2Tite gas spring
With the Design2Tite gas spring featuring a maintenance-free SinterLube guide bushing, DANLY has developed a stable and reliable gas spring with better lubrication properties than standard gas springs.
Expansion of the product range
With the acquisition of Société N.O.P. in France, Danly has expanded its product range through Punches & Dies, both standard elements and special productions.
Locations in Sweden & France
Acquisition of Ringab A.B. and Société N.O.P., expanding DANLY's locations in Sweden and France.
Development of the Hydrocam©
Danly has transformed the market for sideshifts with the development of Hydrocam units©. Danly's hydraulic sideshift, Hydrocam units, is protected by international patents.
USA
Purchase of Ready Technology Inc. Dayton Ohio, USA.
The Netherlands
Integration of Heesen ICA B.V, The Netherlands, into the Danly Group.
Pioneering work in bending technology
With the Europe-wide introduction of Ready Bender© and Rotary© Bender, Danly has performed pioneering work in Europe. Ready Bender© and Rotary© Bender have improved bending technology and are protected by international patents.
Production in France
Establishment of the production company Accessoires de Presses S.A.R.L. in France for production of Danly's helical compression springs, guiding elements, gas springs, etc. in Europe.
Singapore
Establishment of Danly Singapore PTE Ltd in Singapore.
Relocation of German headquarters
Acquisition of ISKA Wolfgang Katz GmbH and relocation of the Danly Deutschland GmbH headquarters to DE 78083 Dauchingen.
United Kingdom
Establishment of Danly U.K. Ltd., Perivale (London), UK.
Germany
Establishment of Danly Deutschland GmbH in Germany.
Launch of compact nitrogen die systems
The new compact nitrogen die system developed by DANLY provides a range of additional features that were missing in earlier generations.
Other locations
Establishment of Danly UK Limited in the UK, and of Danly France S.A. in France. At the same time, James C. Danly, Jr. and Michael D. Danly, the grandsons of Danly's company founder, acquired the international distribution rights under the trade name of DANLY outside of North America.
UK West Midlands
DANLY opens first factory in the UK in the West Midlands.
SuperSprings become the industry standard
Danly's helical compression springs (SuperSprings) with their four different colour groups became the industry standard in Europe.
Belgium
Establishment of Danly Europ in Belgium.
Launch of the interchangeable bushings
In 1958 another success of Danly's research department was the introduction of interchangeable bushings. This new product substantially improved productivity in the metal stamping industry.
Production of mechanical presses
Danly started producing mechanical presses. With, of course, its proverbial innovation capacity and precision. This also included the patented QDC (quick die change) concept.
New production method for die sets
Danly developed a method to produce die sets according to customer specifications from thermally stress-relieved steel plates. This made it possible to replace the time-consuming die casting method.
Die sets with exchangeable parts
In the 1920s, Robert C. Danly was the first US manufacturer to develop die sets with interchangeable parts. This innovative idea reduced the exchange and set-up time and helped to meet the demand for metal parts, which had increased pronouncedly as a consequence of WWI.
Founding of the company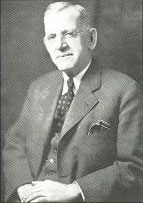 Robert C. Danly - Company founder